VENDOR: Happy Hippo
PRODUCT: Kratom Extract Taffy Chews (Toffee Flavor) 
KRATOM GEEK RATING: 9/10 (Actually Tastes Pretty Good!)
What is the Kratom Extract Taffy Chew product all about?
Happy Hippo recently came out with a new Kratom Extract "Taffy Chews" product that immediately sparked my interest. The 'taffy' concept is unique, and frankly, sort of strange. There aren't many good Kratom 'edibles' on the market because Kratom tastes very bitter. It's hard to make it taste good. In all honesty, I don't really mind the taste, but I know a lot of people do. A product like this would be ideal for someone who is brand new to Kratom or just hates the taste.
I was shocked to see that nearly all of the reviews on these kratom extract taffys are GREAT. Seriously, people are gushing with excitement. Needless to say, after reading the reviews, I've been really eager to try them out!
Happy Hippo's Kratom Extract Taffy Chews Product Details:
20mg of Mitragynine in each taffy – equals around 2 grams of raw Kratom Powder

Available in bag of 6 or in a box of 12 bags 

Toffee flavored

30 calories per taffy
Overall Product Quality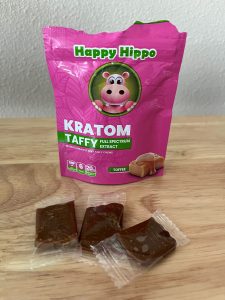 I ordered a single bag of 6 taffys and they arrived so quickly! The product packaging was clean, practical, and totally on brand for Happy Hippo. Although, I will say, the picture of the taffy on the outside of the bag is a little misleading (haha). 
Each taffy is individually wrapped inside of a larger ziplock bag, so you don't have to worry about them melting together creating a mess.
I normally use plain leaf powder and I only use extracts on rare occasions. So, I started out with 1 taffy to see how they work. The flavor was impressive. It was even better than some of the liquid extracts I've tried. It's a yummy toffee/caramely flavor with a slightly bitter aftertaste. Surprisingly, the toffee flavor complements the earthy/bitter taste from the Kratom. It's similar to coffee. For Kratom – these taffys taste really good. I consider this a win.
The effects were on point too. A single taffy was plenty for me. It was strong and fast-acting like an extract, but also robust and long-lasting like powder. I really liked that combination because it gave me a pleasant balance of energy and relief. I felt motivated, comfortable, and best of all, in a GREAT MOOD! It also helped with some minor aches I was experiencing that day. I take Kratom to keep my body feeling comfortable, so, getting a little relief is really important to me.
Kratom Extract Taffy Chew Pricing
The Kratom Extract Taffys are available in two sizes, and the prices differ immensely. 
A single bag containing 6 taffys is $19.99. The larger option is a box containing 12 bags – 72 taffys total which costs $191.88! So yes, the larger option might be pricey for some. In my opinion, it's worth it though! 
The Final Verdict on Happy Hippo's Kratom Extract Taffy Chews
All in all, the Kratom Extract Taffy Chews were better than I expected. Probably the best Kratom edibles I've ever had. I definitely recommend these to anyone who dislikes the taste of Kratom.
I also like the convenience factor of this product. Carrying around large bags of Kratom powder makes a mess. It's undesirable when you're out running errands. Plus, people tend to look at you funny when you're mixing the strange green powder in your water bottle. With the taffy, I can fit the whole bag in my purse with ease. Pop one in my mouth. No one is the wiser. 
If I had to complain – I wish more came in a bag. 6 pieces is not enough and the larger option is a big price jump! A middle-ground option for people who take larger serving sizes would be ideal. I think a pack of 20-25 taffys would be awesome! Most of the reviews I read agree with that too. 
If you didn't know, Happy Hippo is one of our favorite vendors here at Kratom Geek. They have terrific Kratom powder and Kratom extracts, but they also offer other kinds of alternative herbs, too. They're certified by the American Kratom Association, which means that you can trust that their products are clean and safe. I've been using their Kratom for years and haven't been disappointed yet. 
REMEMBER GEEKS! You can use our code GEEK20 for 20% off your purchase with Happy Hippo.
Please keep in mind that each Kratom experience is unique and personal. It really boils down to your personal preferences. Whether you're new to Kratom or a seasoned user, Kratom affects everyone differently and it's important to remember that when reading opinions online. 
DISCLAIMER! Kratom is not approved by the FDA and is NOT intended to cure, diagnose, treat, or prevent any disease or condition. Make sure to speak with a physician before using Kratom.