VENDOR: www.MIT45.com 
PRODUCT: MIT45 Gold Liquid Kratom Extract Tincture
KRATOM GEEK RATING: 5/10
What is the "MIT45 Gold" Product Line All About?
The MIT45 Gold Liquid Kratom Extract is supposed to have extreme potency. I've heard a lot of debate over the past year about whether MIT45 Gold is actually "better" or stronger than the unbeatable OPMS Liquid Maeng Da Extract. 
The MIT45 Gold has reportedly no flavor or smell, and the Mitragynine is extracted in Holland, using state-of-the-art chemical extraction machines. They get the name "MIT45 Gold" because it says it has 45% mitragynine content. Wow! As you can imagine, this type of potency quickly sparked the interest of Kratom consumers everywhere.
A couple of my colleagues and I tried it out and we're ready to share our experience with you! I'll also let you know how the MIT45 Gold Liquid Kratom Extract compares to other Kratom extracts that I've tried. 
"Liquid Gold?" 
I'll be the judge of that! 
MIT45 Gold Liquid Kratom Extract Product Details:
Kratom Extract made from Maeng Da strains

15mL bottle / 1-2 servings per container

100% all-natural, non-GMO product

Unflavored

50mg of Mitragyna Speciosa Extract per bottle
Overall Product Quality
Unfortunately for me, my first impression of this product was underwhelming. 
I took approximately half of the 15mL bottle in a single swig. I wouldn't say it had absolutely NO taste, but the flavor was fairly mild and tolerable (awesome). It seemed like a clean extract. 
The actual effects come on quickly and the feeling was similar to taking a few grams of regular Green Maeng Da Kratom powder; a little more amplified I suppose. I got a positive boost in my mood and a small surge of mental energy, but it was very short-lived for an extract. I seemed to like Gold and Black liquid extracts by O.P.M.S Kratom much more – they have been a top-rated extract since released back in 2013. Plus, they even list the approximate alkaloid content. 
I expected the effects to be more potent and robust overall. It seemed to lack that special kick I was craving. I think my expectations were too high after reading the exciting product descriptions on their website. After all, it's one of the strongest Kratom extracts on the market. 
A couple of days later, I decided to give it another shot. This time I took the full bottle. The effects were definitely MUCH more amplified and I was pleasantly surprised. I felt energized and upbeat, which lasted about 2 hours. With how potent this product is, I didn't expect to have to take the full bottle to get those effects.
In the MIT45 Gold product description, they claim that it's a "full-spectrum" Kratom extract. But looking at the actual packaging on the bottle I received, it's actually NOT full-spectrum because it's only Mitragynine. It doesn't contain any 7-Hydroxymitragynine. 
The label on the bottle has a "Product Facts" panel that claims: "Mitragyna Speciosa Extract (leaves): 50mg" AND "7-Hydroxymitragynine ** " (pictured below)… So, ZERO?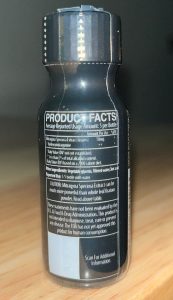 A 'full-spectrum" Kratom extract is a complete alkaloid fraction extraction, meaning it should contain a heavy handful of alkaloids in the plant's profile after extraction, not just the main one (Mitragynine). It should contain both 7-Hydroxymitragyine AND Mitragynine to be considered "full-spectrum". Perhaps I'm reading that incorrectly, but if it doesn't contain any 7-Hydroxymitragynine, then the description is rather misleading. 
Determining the potency ratios of Kratom Extracts can be really tricky because all companies display it differently. It's important to pay attention and do your research. Always take caution. 
MIT45 Gold Liquid Kratom Extract – Pricing
You can purchase MIT45 Gold on a few different websites, and the prices vary depending on where you buy it. The most expensive is from the MIT45 website for a whopping $19.99 per bottle! (April 2022)
I purchased mine from buyopms.com for a slightly cheaper price of $12.95! 
You can also find this product on Pure Leaf Kratom and Pop Kratom websites. I've even seen the MIT45 Gold Liquid Extract in my local gas station. However, be safe and do your research to make sure that you're buying from a secure and reputable vendor. Play it safe.
Comparisons & The Final Verdict
I've tried many different liquid Kratom extracts, but this was my first time trying a MIT45 product in general. I don't buy from vendors that aren't certified by the American Kratom Association, but I went out on a limb to try this because of the hype. 
It sparked my interest because of the high potency, decent price, and positive chatter amongst the community. It's a little cheaper than other Kratom extracts I buy (a big plus). Sadly, it did not resonate how I hoped it would. My tolerance is probably higher than average since I've been using Kratom for several years. Someone who is newer to Kratom extracts may find this more effective. But again, the MIT45 Gold was marketed as EXTREMELY potent, which is what I was expecting and it did not deliver that. 
The biggest plus for this product was the mild taste. Personally, I'm not a fan of fruity-flavored extracts because they usually end up tasting really metallic and yucky. One of my all-time favorite extracts is fruit-flavored, and it provides GREAT effects, but I hate the taste and always have. The MIT45 Gold had a mild earthy flavor that was easily disguisable when followed by water or juice. 
Out of all the Kratom Extracts I've tried from different vendors, there are two that reign superior and they're really hard to beat because they work SO well for me personally. Gold and Black liquid Kratom extracts by O.P.M.S Kratom and Sour Apple Kratom Extract Shot by Happy Hippo Herbals* (reviews on these are coming soon!). Both of these extracts come in smaller bottles (8mL and 10mL) and are slightly more expensive. In comparison, the MIT45 does not have the same peak of effects or last as long as the competitors. 
*REMEMBER! Kratom Geek has a special coupon for Happy Hippo Herbals! Use code GEEK20 for 20% off your first purchase. 
Each Kratom experience is unique and personal. It really boils down to your personal needs and preferences. Whether you're new to Kratom or a seasoned user, Kratom affects everyone differently and it's important to remember that when reading opinions online.
DISCLAIMER! Kratom is not approved by the Food and Drug Administration (FDA) and is NOT intended to cure, diagnose, treat, or prevent any disease or condition. Make sure to speak to your physician before using Kratom.